Our current cohort is now closed to applications. Please sign up for our mailing list (email [email protected] or sign up at the bottom of our website) or like us on Facebook to get up-to-date info about our next program openings.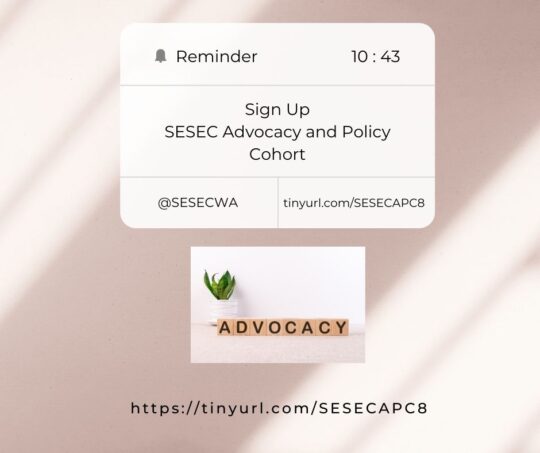 Are you looking for a meaningful way to help address educational equity disparities in SE Seattle? Do you want to learn how to understand and use data, learn about policy analysis, develop leadership skills or be a more effective advocate? Do you want to help narrow opportunity and achievement gaps for SE Seattle students?
Cohort members learn how about policy work, develop and understand policies through a racial equity lens, ways to effectively advocate, how to work with the media, understand educational data, and how to do effective presentations at boards, committees, and commissions. At the conclusion of the cohort, members will have a deeper connection to policy work, stronger leadership skills and a better understanding of policy issues.
We are especially recruiting parents and community members (nonprofits who work in schools, educators, school partners, etc.) who would like to work on looking at policies and practices around collaborative site-based decision-making (such as Building Leadership Teams, Racial Equity Teams, PTAs, PTOs, etc.) in schools.
Cohort #8 will meet via Zoom on the following Wednesdays from 4.00-6.00 p.m.:
April 6, 20, 27
May 4, 11,18, 25
June 1, 8, 15
Requirements: Computer with a camera and audio (mic and speaker), reliable wi-fi strong enough to hold a Zoom video call, able to make all of the dates/times. Not required but may be helpful: Microsoft Excel and Word, Google Drive.
If you are interested in joining please fill out this interest form. Priority sign-up date: Wednesday, 23 March.
SESEC partners (https://www.sesecwa.org/partners/) and Black, Indigenous, People of Color will receive priority. This is why we have the Race/Ethnicity question on the interest form. If you are wait-listed, you will receive an email from Vivian notifying you. If you believe your organization is a partner or recently signed up to be a partner, email Erin ([email protected]).
If you have access needs (e.g. language support, disability accommodations, stipends for child care, etc.), please let us know ASAP, we seek to create an inclusive environment.
If you have questions, please contact Vivian [email protected].