SESEC December meeting
Thursday, 17 December 12.00-2.00 p.m. at the Rainier Avenue Church (5900 Rainier Avenue)
Downstairs, back Fellowship room. Do not use the front door of the church, it will be locked. Come around back to the small parking lot and enter through there. Feel free to bring your lunch, we'll have light snacks available.
Topic and Presenter: Collaboration, Trust and the Pursuit of Educational Justice, Amber Banks-Grubb (UW College of Education, PhD candidate)
This evidence-based, interactive session will present the most recent research on the role of trust in education improvement efforts and offer participants an opportunity to apply the research in their own contexts. Small group discussions and activities will focus on sharing and practicing strategies for building trust between collaborators who come from different backgrounds and perspectives.
Notes from the meeting: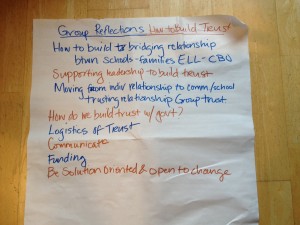 Additional Information from the Community:
Kindergarten Admissions Nights