Advocates for Justice in Education
SESEC is a coalition of more than 50 community-based organizations, schools and parents/caregivers working together to advocate for educational justice in Southeast Seattle. We believe that a just and equitable education system will only be achieved through a collective voice – one that centers BIPOC communities and those who are most often missing from these conversations.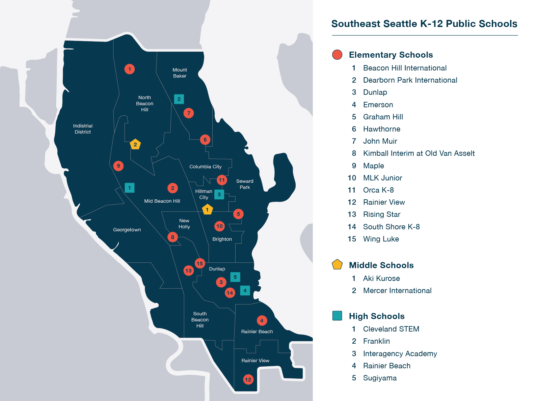 SESEC was founded in 2012 in response to a study showing Southeast Seattle schools' low performance. Not willing to let students miss the opportunities they deserve, SESEC members fight everyday for equitable educational policies for our children, families, and the Southeast Seattle community.
Mission
SESEC's mission is to convene and resource communities of color to advocate for an equitable education system.
Vision
We envision a world where all students have access to and succeed in high performing schools and become productive and engaged citizens.
About Southeast Seattle
Southeast Seattle is considered among the most diverse regions in Washington state. Spanning 6 miles south of Downtown Seattle and framed by the I-5, Lake Washington and southern city limits, the region brings together at least 40 different ethnic groups. Historically, as other parts of the city have displaced communities of color, Southeast Seattle became home. Within the region, there are 22 public K-12 schools, approximately constituting 20% of Seattle Public Schools' total enrollment. Of that percentage, 85% identify as students of color and on average, 80% of scholars received free or reduced lunch. The region exemplifies district gaps in academic outcomes for students of color.
Yet through these disparities, the vibrancy, community and spirit of collectivism are alive. Southeast Seattle has a way of bringing people together to create a positive impact. Though gentrification continues to push communities out, residents of Southeast Seattle will continue to work together.
Enjoy some of our favorite places in Southeast Seattle!
Liz's Favorite: Plaza Maestas Food Court – 1660 S Roberto Maestas Festival St
Meghan's Favorite: Creamy Cone – 9433 Rainier Ave S
Mindy's Favorite: Beacon B B Q – 4886 Beacon Ave S
Vivian's Favorite: Island Soul Rum Bar & Soul Shack – 4869 Rainier Ave S
Michael's Favorite: Tutta Bella – 4918 Rainier Ave S