At the end of 2015, Southeast Seattle Education Coalition (SESEC) and several partner organizations and schools collected parent/caregiver surveys to learn what is working well and where we can improve on fostering relationships between families and schools.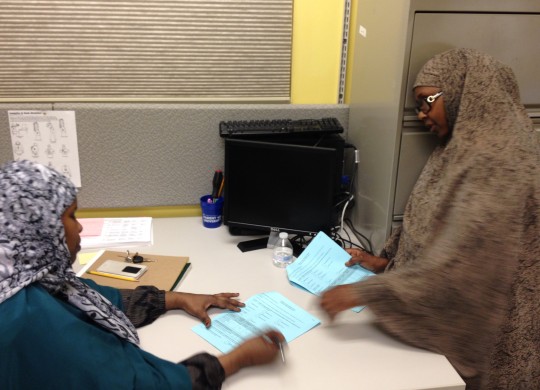 East African Community Services implementing the survey.
When we started the SESEC survey project we asked the design team how they want to experience the data. The overall theme was centered on building trust. We want this project to build trust with the design team, trust with parents/families, school, and the community.
Here are some highlights:
Over 580 surveys were received.
We collected 146 online surveys and 430+ paper results.
Demographic mix of respondents is diverse and representative of Seattle School's student community
Thirty-two schools represented in the data set. Most of the responses are from elementary school parents/caregivers.
Design Team Partners:
Chinese Information Service Center (CISC)
East African Community Services (EACS)
Emerson Elementary School
Graham Hill Elementary School
Maple Elementary School
Powerful Schools YMCA
University of Washington College of Education is our partner in running the survey design and supporting the data evaluation portion.
SAVE THE DATE
Saturday, 27 February, 9.00-12.00 p.m., doors open at 8.30 a.m. for the SESEC Summit at Rainier Avenue Church. At the Summit, we will share the data with the coalition and public. We will work with the data to determine key messages, advocacy strategies, and provide vital information to programs and schools on ways to adjust policies and practices to get better results. Register for the Summit at https://www.surveymonkey.com/r/SESECSummit