Happy Friday!
Seattle Voters: Please VOTE YES on both Proposition 1 and 2. SESEC is endorsing these levies. These renewal levies provide important funds to provide our children with what they need to succeed in school. The levies cover 25% of Seattle Public Schools general operations and maintenance and repairs to buildings. Ballots are due by Tuesday, 9 February 2016 – VOTE YES twice.
Councilmember Lorena González wrote about why she supports the levies in The Stranger's SLOG. The Seattle Times endorsement article is here.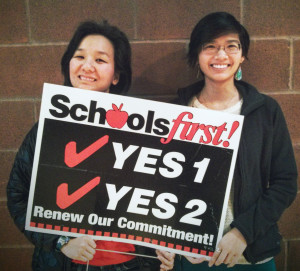 Erin (Exec Dir) and Mindy (Rainier Valley Corps Fellow) Vote YES!
Community Announcements
Superintendent Larry Nyland is looking to recruit new members for the district's African American Male Scholars Advisory Committee to the Superintendent (AAMSAC) for the 2015-2016 and 2016-2017 school years. The AAMSAC was formed to advise the superintendent on how the district can better and more effectively serve African American students achieve academic success and develop socio-emotionally. The committee meets two times a month and includes parents, guardians, community members, teachers, staff, and City of Seattle representatives. The nomination deadline for recruits is Friday, February 6, 2016. Contact Director of School Family Partnerships and Equity & Race Relations, Bernardo Ruiz, to nominate a candidate at [email protected].
RePurpose Network is currently looking for 6 to 8 Seattle area schools to sign up for their Spring trail of their business-to-school furniture donation marketplace. You'll be able to save money by choosing from a selection of gently used 21st century office furniture for your current refurbishment projects. Ideally, you'll want furniture for spaces like libraries, study or breakout areas, to help increase productivity and space utilization. Once chosen, your furniture will be sent to your school, or to a selected distribution center. For more information, see these fliers: Schools Trial and Educator Overview. Sign-up is schedule end mid-February.
United Way of King County will help prepare your tax return for free! Take the stress out of filing your taxes. UWKC is offering free tax preparation services in 25 locations throughout King County, including 10 locations in Seattle from now until April 21st. Households making under $62,000 can have their taxes prepared plus they can get connected to healthcare enrollment and other public benefits. No appointments needed. To find a location near you, languages available, a list of what to bring, and other details, visit their website at www.uwkc.org/taxhelp or call 2-1-1. OR, file your taxes online for free with United Way's My Free Taxes tool if your household makes under $62,000 at http://www.unitedway.org/myfreetaxes.
Upcoming Events
All City Tutor Training Workshop
When: Saturday, February 6, 2016 from 8:30 AM to 1:30 PM
Where: Cleveland High School, 5511 15th Ave S, Seattle, WA 98108
Details: The All City Tutor Training Workshop provides opportunities for professional development and skill building for individuals involved in tutoring and mentoring programs around the Puget Sound region. Key Note Speaker: Damian Joseph, a Veteran Teacher with 20 years of experience, will speak on The Significance of Tutoring in Education. Workshops: Middle and High School Math, Middle and High School Writing, Working with English Language Learners, Behavior 101: How to Decrease Student Behavior Issues + Increase Time On-Task.
Register at: https://www.eventbrite.com/e/all-city-tutor-training-winter-2016-tickets-20084637692
Facebook Chat about the Seattle Preschool Program
When: Friday, 19 February from 12.30-1.30 p.m.
Where: Facebook Live Chat will be happening on our main Facebook page.
Event Details: Do you have questions about Preschool readiness and registration? Do you want to learn more about the Seattle Preschool Program? Ask your questions during our Facebook Live Chat! Seattle Preschool Program will be online to answer questions and share information. If you can't be online during that time but have a question, feel free to email your question to [email protected] and we will do our best to have it answered.
Please share with parents and caregivers who are looking for preschool.
Don't forget to register for the SESEC Summit on Saturday, 27 February from 9.00-12.00 p.m.!
News to Follow
More than 350 students, teachers, parents and education officials attended Ignite Lab, an event sponsored by the Seattle Times. Eleven speakers presented on everything from socially relevant math lessons to segregated schools in a series of five-minute talks surrounding education. Equity was a recurrent theme.
Despite no full plan to address education funding, legislators say they've come up with several bills that will help K-12 issues. These include HB 2837, which talks about fairly executed class-size reductions and HB 1541, which speaks to school discipline and reducing instances of racial disparity.
Some important changes are coming for English Language Learners with the new federal Every Student Succeed Act. This is one change: "Unlike before, districts may administer assessments in a language other than English…"