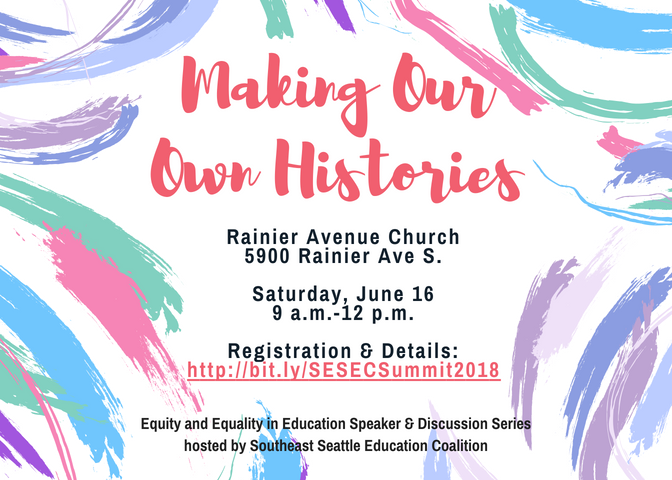 Join us as we redefine communities of color histories in our region. Too often histories are defined for us and they are told through a lens that disempowers and burdens people of color. These histories are powerful and help to direct our future work and directions. The Summit is being designed to be interactive and a place where we can learn from each other to define our collective SE Seattle histories, learn from each other, and set a path for future work towards educational justice. Everyone will have a role — long time residents or new to the neighborhood come and join us so we can learn together.
Light breakfast will be provided. Please tell us about any dietary restrictions below. If you let us know during the week of the event, we will do our best to accommodate but it will be at the caterer's discretion.
Children are welcome to attend and participate; we ask you watch your children. Please let us know below how many children and ages. Interpretation available upon request (Interpretación disponible a petición, 可根据要求提供口译服务). Please let us know as soon as possible to allow sufficient time to find someone (Por favor, déjenos saber lo antes posible para permitir tiempo suficiente para encontrar a alguien, 请尽快让我们知道, 让我们有足够的时间去找某人). Please let us know if you need disabilities accommodations, venue is ADA accessible.
Program will start promptly at 9 a.m. The event will be in the Fellowship Room, around the back of the church, where we hold our monthly coalition meetings. There is a small parking lot outside the fellowship room, as well as residential parking.
If there are any other questions, feel free to email [email protected]. Feel free to share.
*Please note: Southeast Seattle Education Coalition (SESEC) is a place-based organization. During this event, we ask that you recognize this as we talk about educational justice for kids and families of color, especially in Southeast Seattle.
Event sponsored by: